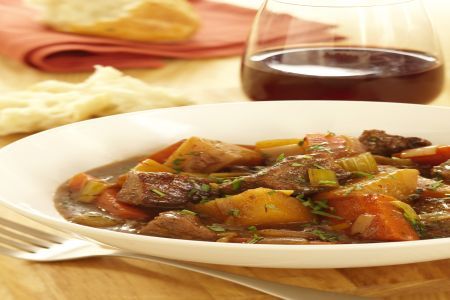 Ingredient:
600-700 g veal
1 large onion
2 tablespoons oil
1 carrot
1/2 pepper
1 stalk celery
salt
piper
1 Vegeta teaspoon vegetable
1 teaspoon paprika
1 tablespoon flour
50 ml milk
1 tablespoon of green (celery, parsley)
Is prepared as:
Wash veal.
Then wipe thoroughly with a towel.
Then the meat cut into cubes suitable.
Onion, carrot and pepper peel and cut into cubes.
Stalk celery cut into cubes all.
In a bowl put 2 tablespoons of hot oil.
Then add the diced vegetables.
Let it simmer for a few minutes.
After this time put the meat.
Add paprika, salt and pepper.
Allow to simmer and cook until the meat less.
Pour 500 ml of boiling water.
Simmer slowly.
If the meat is cooked, Pour in flour mixed with milk bowl.
Let it boil a little.
Season to taste.
Remove from fire.
Place and finely chopped greens.
The bowl is covered, for 2-3 minute.
Ready-to-serve hot stew.
Add some diced boiled potatoes serving with warm polenta or bread.
Of course, from this stew is a must for serving and pickles.